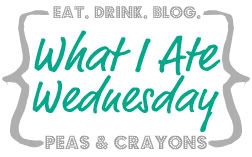 I think this is my third one and I do quite enjoy it especially getting inspiration from others. I always like being in a place where my eats are all balanced, something I never thought I would be able to do.
Well this isn't strictly what I ate on Wednesday but is from a few days ago as today is pretty boring as I am at work boo!
Anyway:
Breakfast: oats with chopped fresh apricots, apple, fromage frais yogurt and linwoods milled cocoa berries flaxseeds
Mid-morning was a bowl of fresh strawberries with natural yogurt and seeds
Lunch was something different for me, and it was something I remember loving as a kid. It was a chicken Kiev! These ones were sainsburys be good to yourself ones that I bought ages ago when they were reduced so I had them with a salad of rocket, watercress, and spinach with some roasted butternut squash! I seriously love butternut squash so much.
Yep that is brown sauce the guiness one:p
Dinner this evening, was a new dish for me to cook which turned out fab. I present you a paella! If you do cook this you have to add the saffron I know its expensive but it makes it taste so so good:
a large pinch of paprika
Veg-I used mushrooms, and peppers but anything would really go in this dish)
about 300g prawns, and 200g of chicken.
1. Heat the oil then add the onion, garlic, and vegetables. Stir in the paella rice, saffron and paprika.
2. Add the veg stock, and simmer for 15 minutes until the rice is tender.
3. Add the chicken and prawns (these were pre cooked) and stir through. I squeezed some lemon juice over the top.
This is also freezable which is a big plus.
Uni Update
I have yet again to go down to Bournemouth on the 4th September which I guess is a good sign as if the were going to not let me on the course they wouldn't make me go all the way to Bournemouth to tell me that! But its a tad stressful as I meant to start at the end of september. Oh well, just have to keep going at the moment which I am doing. I have been invited out for an indian on Sunday night! It has been a long time since I have had Indian in a restaurant.
Anyone know how to use protein powder in porridge? ever made paella?